Home » Family
Adventures by Disney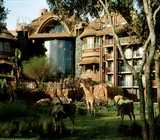 Adventures by Disney immerses you in the story of amazing destinations around the globe through hassle-free, guided group vacations that offer special VIP Experiences, Insider Access that only Disney can provide and a world of family fun to create a lifetime of memories. Each Adventures by Disney itinerary includes experiences that captivate travelers of all generations with family-friendly activities, behind-the-scenes access to local attractions, extraordinary local experts and special surprises along the way! On each adventure you'll travel in small groups led by two Adventure Guides who have a gift for creating family fun. And you'll enjoy the same impeccable service and attention to detail that are the hallmarks of Disney. While you're connecting with new people in new places around the world, you'll be reconnecting with your family, too. Just think of the stories you'll tell for years to come. Better yet…think of the stories you'll live.


Need a Quote?
Adventurous Family Expeditions by International Expeditions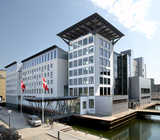 If you've ever traveled with your family to some of the world's wild places, you know that there is no experience that brings people closer together. We hope you'll share this experience to one of our best-loved destinations — the Amazon and the Galapagos Islands. Each unique place offers special activities and educational experiences for all. One of their Family Directors will accompany your family throughout your journey. They have an extensive background working with children, a tremendous love for science and exploration, and a winning way with both kids and adults.


Need a Quote?
Atlantis, Paradise Island, Bahamas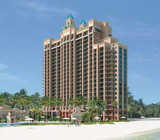 5 stars. Atlantis, Paradise Island is a unique destination featuring the world's largest open-air marine habitat, home to over 50,000 sea animals living in 14 exhibit lagoons. Explore Aquaventure, an innovative waterscape of thrilling slides and rides, discover secrets of the lost continent in The Dig and interact with gentle dolphins in Dolphin Cay. Enjoy 20 swimming areas, renowned beaches, Mandara Spa, world-class casino, Aura nightclub, a wide range of dining options including the gourmet cuisines of Bobby Flay, Nobu and Jean-Georges Vongerichten, duty-free shopping at Marina Village and Crystal Court, sports center, nearby 18-hole championship golf course, Atlantis Kids Club and Club Rush for teens.


Need a Quote?
Azul by Karisma Hotels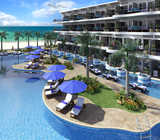 6 stars. Located throughout the Caribbean and Mexico. From the first hello, you will encounter a commitment to personal service and comfort that is unprecedented in hospitality. Whether you choose to stay in one of our Gourmet Inclusive® properties, an à la carte hotel, an all-inclusive resort or a private villa, your experience will be one that you'll never forget. Because luxury is more than beautiful architecture and accommodations...it's anticipating the needs of our guests without ever being intrusive. Karisma offers a wide range of unique properties in a variety of world-class destinations; from adults-only and family-friendly to opulent villas and intimate urban retreats. At Karisma, we believe in sustainability and giving back to the community. The real secret behind the Karisma Experience is that when you treat your staff and your guests like family, you create positive feelings and cherished memories that last forever.


Need a Quote?
Barcelo Hotels & Resorts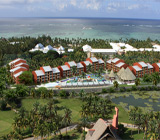 4 stars. Located on the most incredible beaches of Mexico and the Caribbean, discover a world of experiences for sun worshipers and water sports enthusiasts at Barceló Hotels & Resorts. If you're looking for an active vacation where everything is included, Barceló Hotels & Resorts offer it all, including a wide variety of daily activities, land and non-motorized water sports, nightly entertainment, kids clubs and more. Take a scuba lesson in the pool or snorkel right off the beach. Barceló serves up fabulous cuisine in specialty restaurants and are known best for their grand buffets. Barceló Hotels & Resorts, masters of the all-inclusive experience.


Need a Quote?
Beaches Resorts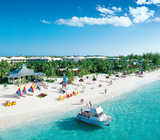 Sesame Street: Elmo & Friends. 6 stars. There isn't a kid in the world who doesn't adore Sesame Street®. And now parents can give kids the extraordinary gift of sharing their vacation with Elmo and friends. All week long, kids can enjoy a Beaches exclusive Caribbean Adventure with Sesame Street, featuring life-size walk-around characters of Cookie Monster, Grover, Zoe, Bert, Ernie, and of course Elmo. Enjoy any of the Beaches resorts: Beaches Negril, Beaches Ocho Rios, Beaches Turks & Caicos. All meals, drinks, snacks and more included! Ultra all-inclusive that is everything to everybody. Everything - luxurious accommodations, fabulous gourmet meals, anytime snacks, premium brand drinks, exciting land and water sports, professional instruction, even tipping - is included in one easy, all-inclusive price. So indulge very whim as freely as you choose, as often as you want. Catering to all ages from infants to 17. Better than an arcade, each resort has an XBox 360 Game Garage where kids and parents can take a break fro some video game competition and never worry about paying additional charges. Beaches is also partnered with Scratch DJ Academy so guests can learn how to mix, blend and scratch on vinyl, CD's or even an IPod. NJTravel.com is a Preferred Beaches Supplier and offers repeat Beaches guest discounts.


Need a Quote?
Club Med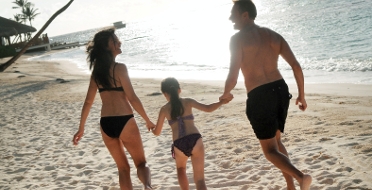 At Club Med all-inclusive resorts on every continent, enjoy an unforgettable experience for families traveling with babies, kids and teenagers. You'll discover improvements and additions at Club Med's 80 resorts in the Caribbean, North and Central America, South America, Africa and Middle East, Asia, Europe, Alps, Indian Ocean and Pacific Ocean, allowing families, couples or solo travelers to experience fun, exotic cuisine, adventure and luxury vacations. Because vacations should be a time for all members of the family to relax, we provide all the baby care equipment you require: cots and nappy-changing mats, baby baths and all the equipment necessary for preparing babies' meals, along with sweet and savory baby foods. We even provide push chairs if you need them for walks. Don't forget to sign your babies up when you book your vacation, it's included in your package!
From newborn babies to 23 months and for babies 4 to 23 months in the Mountain Resorts (except Chamonix Mont-Blanc - new born babies).


Need a Quote?
Cruises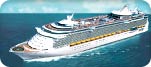 Cruises offer specific family-related or kids/teens programs, especially at spring break or summer vacation time so that the odds are in favor of there being other kids on board. But even without special programs most of the large or small ships are wonderful for families if the activities focus on nature and wildlife. What kid can be bored with close-up encounters with whales, seeing monkeys in a rain forest, walking on a glacier, or fishing for piranha in the Amazon? Cruises also can give kids a sense of place and sense of history that they cannot obtain in a classroom. And on a ship a family can experience the exchanges with other people and other cultures that occur traveling with small groups.


Need a Quote?
Dreams Resorts

5 stars. All-Inclusive. Located in Mexico, Costa Rica, Panama, Puerto Rico and the Dominican Republic. Everyone has a different idea of the perfect vacation. That's why every Dreams Resort & Spa offers a diverse, never ending array of day and evening activities including water thrills like snorkeling, windsurfing, kayaks, ocean trampolines and other non-motorized water sports. Nearby you will often find golf, scuba diving, parasailing, fishing, shopping and other diversions.* You can chill out in our incredible pools — or warm up next to them with a good book and a cool drink. Most Dreams Resorts & Spas also offer tennis, biking, cooking and dance classes, plus indoor games. At night it's all about gala parties, live entertainment, music and dancing, even movies under the stars. Kids have their own ideas of a great time. So while you get time for yourself, they're having the time of their lives at our supervised and safety trained Explorer's Club. Kids ages 3-12 enjoy nature and science demonstrations, arts and crafts, treasure hunts, sand castle contests and more with new friends from all over the world. However you want to spend your time, active or leisurely, adventurous or laid back we have the things your DREAMS are made of.


Need a Quote?
European Family Adventure Tours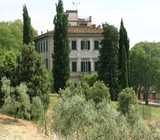 Imagine having the chance to introduce your child or grandchild to the delights of Italy, Switzerland, Hungary, Czech Republic or Austria. These tours create several rewarding itineraries well-suited to families. Not exactly the typical 'child friendly holiday', these family adventures give your kids a chance to discover the world as you do. And the best thing is there's just as much for parents to enjoy too. We take care of the logistics so that you can simply enjoy the moments together and the discoveries to be made. The small size of each group means an opportunity to spend time together with the security of an experienced team leader. On these tours you don't need to be well traveled - just ready for adventure. European cities include Prague, Vienna, Budapest, Montreux, Cinque Terre, Rome, and Venice. (Intrepid Travel, Globus, Tauck, Generations Touring Company)


Need a Quote?
Family Vacation Homes & Villas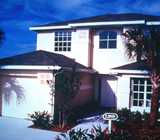 The Ultimate in Villa Vacations. We have mulitple bedroom luxurious homes/villas available for rent in the US, Caribbean and Europe. Enjoy your own private space and perhaps your own private pool in your own house/villa on beautiful landscaped grounds. Experience an authentic vacation at your destination of choice.


Need a Quote?
Generations by Karisma Hotels

6 stars. Generations Riviera Maya, a Gourmet Inclusive Resort, by Karisma is Mexico's premier All-Suite, All-Butler, All- Gourmet beachfront resort where couples, wedding parties and families can savor a Gourmet Inclusive experience, a vacation that fosters togetherness. This 144-suite resort stretches along a secluded beach in Riviera Maya, providing indulgences from Gourmet Inclusive a la carte cuisine to infinity pool balcony suites, complete with attentive butler service. With the Eko Kids Club offering supervised activities for children, parents can run off and play all by themselves, knowing that their little ones are in good hands and having fun. And with everything from beach water sports to nightly live entertainment, there are plenty of adult activities to run off to. Adult guests are also welcome to use the facilities at El Dorado Casitas Royale and El Dorado Royale, located right next door. Guests are invited to customize their Gourmet Inclusive experience by completing a pre arrival form online. The property is 25 minutes south of Cancun International Airport, 15 minutes north of Playa del Carmen, just 10 minutes away from Mayakoba championship golf course, 25 minutes away from the Playacar Golf Club, 5 minutes south from Puerto Morelos and 35 minutes south of downtown Cancun.


Need a Quote?
Hard Rock Resorts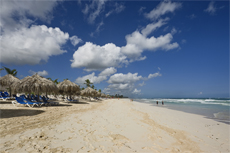 5 stars. Located throughout the Caribbean and Mexico. It's rare for a brand to gain critical mass worldwide and still maintain its authentic spirit. Just as rock 'n' roll spread through the world with a sound that blended cultures and drew fans from all walks of life, Hard Rock has covered the globe with hotels that promise so much more than a place to stay. We embrace the attitudes, cultures and charisma of each location, and bring an energy you can't find anywhere but Hard Rock.


Need a Quote?
Melia Resorts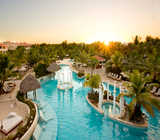 4.5 stars. Melia Hotels & Resorts - One of the world's largest hotel chains, Sol Melia is internationally known for customized personal service, magnificent hotel designs and ideal beachfront locations. Get ready for a vacation unlike any other at a Melia Resort in Puerto Vallarta, Cozumel, Ixtapa or Punta Cana. Let the kids hang out with Fred and Dino at The Flinstones Land™, where fun activities, imaginative games and exciting discoveries are in store. One of the Leading Hotels of the World, Gran Melia Resort Cancun offers timeless luxury with an avant-garde flair, the definitive statement of contemporary luxury and Spanish hospitality.


Need a Quote?
New York City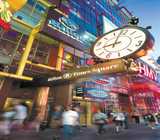 The Big Apple has so many family-friendly activities for children of all ages. Whether it's a walk in Central Park, ice skating at Wollman Park, the hands-on exhibit at the Sony Wonder Technology Lab, an IMAX movie, a Cruise around New York City, the Statue of Liberty, a view form the Empire State Building or a tour of Rockefeller Center. New York City has everything and anything.



Need a Quote?
Nickelodeon Resorts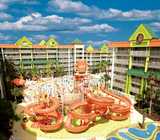 4 stars. Located in the US and the Caribbean. Kids rule at this Nickelodeon-themed hotel, where they can get a pie in the face one minute, and slimed the next! The younger set loves the Nicktoon-decorated rooms, with either bunk beds or twin beds, in the 2- Bedroom-KidSuites. All of the approximately 800 suites have a king- or queen-size bed, a kitchenette with microwave, refrigerator and vanity sink, a 32" plasma screen TV in the living room plus TVs in each bedroom, a private bath, a hairdryer, and an iron and an ironing board. There's also a pull-out sofa in the living room allowing for up to 6 guests in each 2- bedroom KidSuite. Connecting rooms are available for larger families.


Need a Quote?
Now Resorts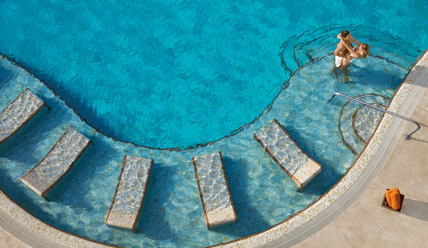 5 stars. All-Inclusive. Now Resorts & Spas offer vibrant beachfront settings in Mexico and the Caribbean perfect for multi generational travel, families with teens and tweens as well as couples and friends. Guests enjoy a family-friendly, modern vacation experience, where play and party are just steps away from peace and quiet. Spacious rooms and suites are graciously appointed and luxuriously equipped with amenities. Active and lively settings provide entertainment for guests of all ages, including kids, teens and tweens with the supervised Explorer's Club for Kids with Red Cross certified staff and Core Zone Teens Club.* These resorts provide the perfect setting for a family reunion, a wedding or a social group getaway. Live in the Now™. Unlimited-Luxury® includes: Limitless access to gourmet à la carte dining options without reservations required, Unlimited international and domestic top-shelf spirits, Unlimited natural fruit juices and soft drinks, 24-hour room and concierge services, Pool and beach wait service, Daily refreshed mini-bar with soft drinks, juice, bottled water and beer, Daily maid service, Endless daytime activities and live nightly entertainment, Theme parties, oceanfront bars and entertainment venues, No wristbands required, All taxes and gratuities, Enjoy free Wi-Fi and free international calling to the US, Canada and local landlines with Unlimited Connectivity. The mobile app also allows guests to view the schedules of all events, activities and restaurants at the resort, plus to learn about local destinations, excursions, and much more!*


Need a Quote?
Occidental Hotels & Resorts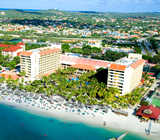 All-Inclusive. Located in Aruba, Dominican Republic, Mexico, Spain and Costa Rica. Now a part of the Barceló Group, Occidental Hotels & Resorts offer the best of Mexico, the Caribbean and Costa Rica! Escape to an Allegro Resort and discover one happy place that has it all, or discover sophisticated elegance and charm at an Occidental Grand Resort. No matter which all-inclusive resort you choose, you'll be graciously served in a setting of unrivaled beauty! So whether you're looking for a party or a palace, Occidental Hotels & Resorts has the perfect vacation for you!


Need a Quote?
Palace Resorts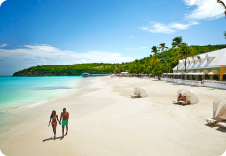 5 stars. 8 resorts. Located on the most beautiful oceanfront locations in Mexico, world-renowned Palace Resorts offer the ultimate in all-inclusive vacations. Luxurious accommodations with a double-whirlpool tub for two in every room, fine dining, top shelf drinks, sensational entertainment, 24-hour room service, non-motorized water sports and so much more. You'll also have access to some of the Mexico's finest spas, and enjoy great values on all-inclusive golf packages. Stay at one Palace and play at six, with all of the awe-inclusive perks they each have to offer.


Need a Quote?
Paradisus Resorts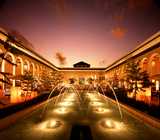 5 stars. All inclusive. A member of The Leading Hotels of the World, this resort is the perfect backdrop to a fun family vacation, romantic getaway, or intimate island wedding. Surrounded by lush, vibrant tropical gardens, mangroves, and sparkling waters, the resort faces one of the most breathtaking white-sand beaches in the Caribbean. Designed to provide guests with a true escape, the full-service Spa at Paradisus features an elaborate collection of signature full-body treatments.


Need a Quote?
RIU Resorts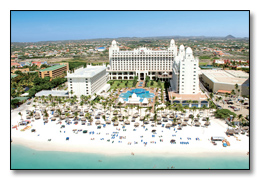 4.5 stars. Located throughout the Caribbean and Mexico. Riu Hotels & Resorts, we have been working on one idea, that our clients enjoy an unforgettable experience over 60 years. They built more than 100 hotels in the best destinations worldwide, our aim is to make our guests feel good and enjoy your stay with all the amenities we offer. Riu Hotels & Resorts remains the firm favorite for hundreds of travelers who select them year after year for their vacation. The warmth of our facilities means our guests feel they are right at home, in modern, comfortable and spacious rooms to suit all types of needs. Attentive service ensures every stay runs smoothly, creating a cheerful, friendly and welcoming environment: the makings of a truly wonderful stay. Gastronomy is another of RIU Hotels & Resorts success stories. All our guests enjoy a selection of dishes prepared daily with the utmost care and to their liking using fresh, exquisitely presented ingredients. Likewise, the opportunity to stroll through large gardens and dive into crystal-clear swimming pools and to take advantage of a wide range of activities and enjoyable entertainment programs for both children and adults has become another of the RIU Hotels & Resorts seals of quality. Today clients only need take care of selecting their destination, as fun and comfort are already guaranteed. Strolling by large gardens and immersing in crystal clear swimming pools, providing a wide range of activities and some enjoyable entertainment programs for children and adults, has become another insignia of Riu Hotels, which now ensures its customers that their only task is to choose the destination, because the fun and comfort are guaranteed. Come and enjoy a holiday with family or friends and live your own unique experience!


Need a Quote?
Royalton Resorts

5 stars. Located throughout the Caribbean and Mexico. Your luxury getaway at Royalton Luxury Resorts awaits, where a new generation of all-inclusive vacations in the Caribbean's most coveted destinations are ready for you to explore. All-In Luxury® offers a unique experience where beautiful architecture is combined with an exquisite products, featuring incomparable service and incredible attention to detail. Every aspect of your stay-from unlimited à la carte dining to our signature handcrafted Dreambed™- has been carefully designed to deliver personalized service that meets your unique needs. Find the conveniences of home and more while on vacation with All-In Connectivity™, elegantly styled rooms, the signature Dreambed™, high-thread count sheets, superb culinary options, and entertainment for guests of all ages.


Need a Quote?
Walt Disney World and Universal Studios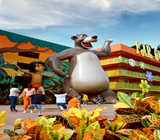 We are Authorized Disney Vacation Planners. Let us put you in the middle of magic! Choose an Orlando vacation at either Disney World of Universal Studios or how about both. Take it all in on your next Orlando vacation with access to six amazing theme parks, including Magic Kingdom, Epcot, Animal Kingdom and Disney's Hollywood Studios as well as Universal Studios Florida and Islands of Adventure, including The Wizarding World of Harry Potter. Vacation package includes your choice of hotel.


Need a Quote?
Please call for additional rates to other hotels and destinations of your choice.
1-856-719-9370
Hours: Monday - Friday 10:00AM - 8:00PM EST
Saturday 10:00AM - 3:00PM EST
Sunday 11:00AM - 2:00PM EST
Need a Quote?